Message from President
Company Vision
Management Plan
Company Profile
Corporate History
Affiliates
Basic Principles
"Moving forward passionately with our work"
We are committed to our core business and strive to make wide-ranging contributions to society.
As we preserve our founding traditions and emphasize bonds of trust in business and society,
we aim to at the same time move forward and contribute to the common good in new ways.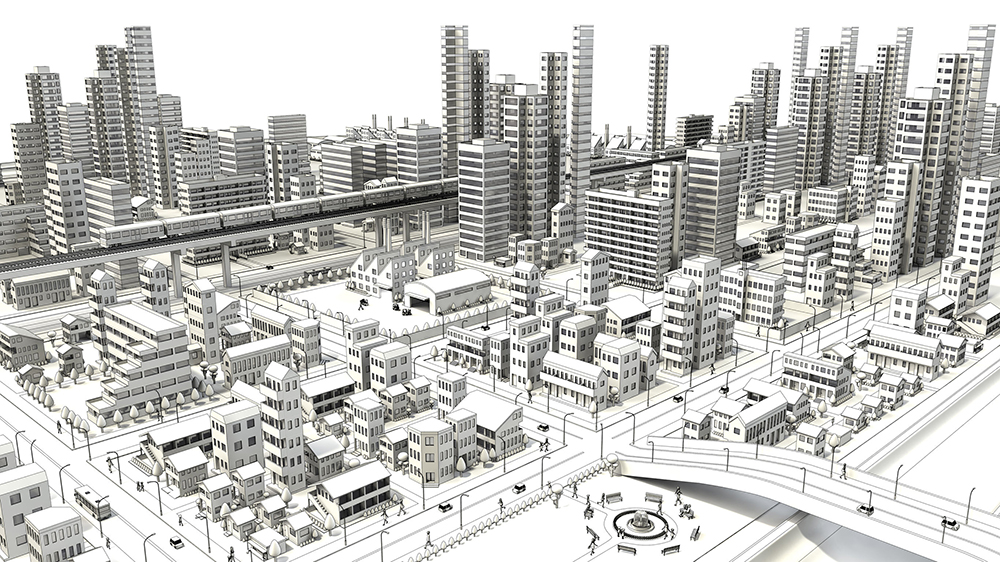 Management Philosophy and Policy
Management Policy
We aim to operate our firm as a family business and deliver consistently high profits quarter over quarter.
Management philosophy
We aim to avoid rigid-thinking and conventional pattern of behaviour in our management practices as we strive to respond ably, quickly, and in a supple manner to changes in the times. We wish to create an organization marked by quick thinking and careful work. We have no misgivings about realigning our business vectors to achieve the best responses to a changing climate: the future holds unexpected outcomes, and it's up to us to respond to them with flexibility and creativity. We pledge to not rest on our laurels but take on new challenges for tomorrow.
Values
To "Move Forward"
We seek infinite possibility in the future without losing sight of the present. Ability to take action; information; humanity; new business development; tradition and trust: these are the essential values while we move forward to the next generation.
We create constantly new and high-quality business.
Numerous "colors" in people's everyday lives provide them warmth and richness; however, merely coloring the surface of their lives does not provide true comfort. Our mission is to enrich people's lives not just with tangible "colors" but also with intangible assets called "trust".
"Trust" is what gives people's lives "colors".

Five Codes of Conduct
1.Cultivating a sense of purpose
We pledge to keep our eyes open to the environment and society and use our business to promote society's well-being.

・We strive to provide safe, ecologically friendly products and service with a sense of purpose.
・We strive to contribute to the beautification of our cities through paint sales and facilities construction.

2.Proactive sales approach
We pledge to communicate with customers effectively to cater to their needs.

・We strive to meet customers' expectations by delivering speedy results and solutions.
・We earn the trust of clients through our passion and sincere attitude; our sales activity builds mutual relationships with customers.

3.Re-evaluating and improving our governance and management methods
We pledge to constantly improve our business operations to make them more efficient and effective by promoting standards and guidelines.

・We strive to cut out waste and improve our management approach.
・We carry out fair transactions and reasonable care to maintain our account books in good order.

4.Systematic execution of teamwork and individual roles
We pledge to leverage each employee's abilities to the fullest and build a dynamic organization.

・By working with others, each employee will strive to better his or her skills through teamwork.
・Each employee's responsibilities and role will be clearly explained and the importance of reporting, making enquiries, and corresponding with superior will be emphasized.

5.Strengthening compliance
We adhere to regulatory guidelines and carry out our business with sincerity and integrity.

・In addition to following laws and internal guidelines, we will carry out our activities based on a sense of what is good for society.
・We will maintain a constant awareness of issues and swiftly and correctly resolve any problems that occur.
Management Plan
Our firm is undergoing a large-scale reform of our business with an eye to the future: that project goes by the name of "Looking to 2020: Renovating our Business." A long-term revamping process of our business is, we feel, vital to keeping pace with customers' demands.We have strong belief that we expand our business only with renovation of our business.
Background
The Lehman Brothers shock in Fall 2008 was a once-in-a-hundred-years event that brought a sudden recessionary impact to Japan's shores. Two years later, when a recovery was in sight, the Greek debt crisis plunged Japan into a recession caused by a strong yen, the first in fifteen years.
Paint manufacturers have as a result started to retool their business models. They are adapting their scale in Japan to a more efficient level and changing production to meet today's demands of wide product variety within limited-production runs.
In addition, many of our customers in the manufacturing sector started to realigning their bases of operations with a global outlook, they have produced new mid-term plans that reflect this realigned outlook.
Our firm wishes to fully respond to this changing environment and our clients' strategic reorganizations and new business plans. That's why we've chosen to reassess our business and its raison d'etre to improve it to the fullest and meet with new expectations.
Operations
Lean production system and a short lead-time are crucial to meeting the needs of our core clients and providing the paint they need. Our focus is on collaborating with customers to make each step of the supply chain (from production, sales, through application) efficient.
Furthermore, we strive to provide information and propose to our clients by having a total grasp of the entire production process. Our clients expect our technical and support skills to back them up at the production line preparation stage, manufacturing, and future research and development of new products.
Below we outline our plans for our firm's ideal workflow and stance vis-a-vis our customers: we envision a future structure where we can respond to our custeroms' needs above.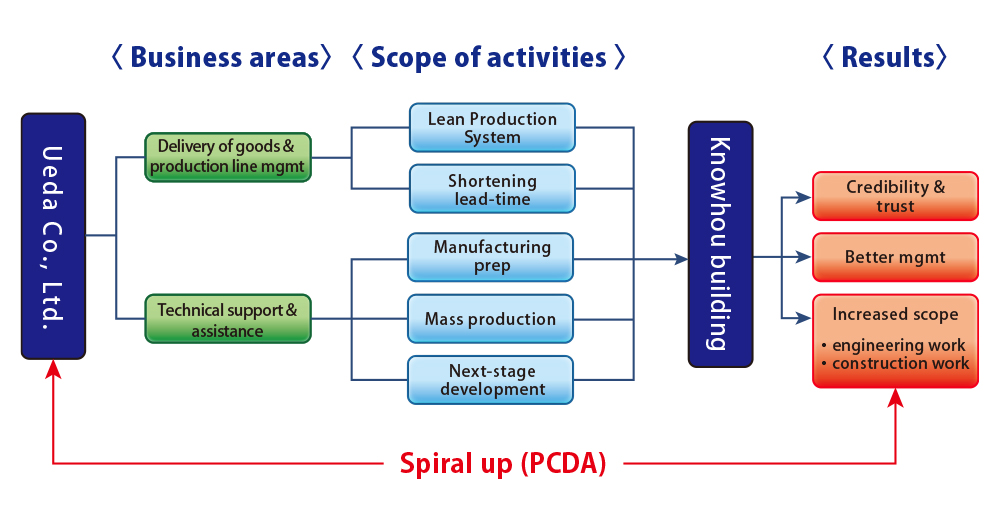 Contents of Business Innovation
Our plans for executing our overhaul are as follows: after finalizing our plans for areas needing improvement, we will appoint a special task force in charge of the strategic realignment. Once a course of action is drafted, we will appoint staff members to carry it out and proceed towards our renovation plan.
Category
Background
Plans for improvement
Information (data) management and supply-chain strengthening
Monthly information sharing about production, sales, and application: order acceptance and follow-up is lacking
① Effective use of daily production data
② Emphasizing sequential workflow
③ Systematic emphasis on problem management
④ Focus on timely and flexible response
Workflow creation (the flow of materials and proper application of labor processes)
A total holistic snapshot of the supply chain needs to be developed in order to execute the production and application stages simultaneously
Supply chain upgrades:
① Develop an at-a-glance snapshot
② Better orderliness
③ Simplify the process
Improving labor processes(tools, workflow)
A new way of thinking about inventory management systems needs to be devised
① Clear and distinct storage based on inventory type
② Organization method that shows excess/deficit stock at a glance
③ Develop quick responses to shipping increase/decrease and unforeseen trouble
④ Develop better communication with customers at the delivery stage
Training, education, and knowhow buildling Operations expansion
In the absence of clear and stable guidelines, the supply chain breaks down;There are strong expectations for knowhow development and increased scope of operations
① Training and education in observing rules
② Learning tools explaining workflow improvement
③ Point-by-point training about problem identification and management
④ Building knowhow for the future
Company Profile
Company Name
Ueda & Co., LTD.
Founded
February 11, 1937
(Saburo Ueda had established his personal business which became the predecessor of Ueda & Co., Ltd.)
Head Office
Nishi-Shimbashi Dai1houki Bldg. 6F, 3-5-2 Nishi-Shimbashi, Minato-ku, Tokyo 105-0003, Japan
Phone +81-3-6757-4343
Fax +81-3-6402-4880
President/CEO
Tomohiro Ueda
Capital
20.5 million yen
Sales
10 billion yen
Main Businesses
Paint Sales Business
Engineering Business
Construction-related Business
Offices
Headquarters, 10 Offices
Employees
108 persons(As of Jun 01, 2023)
Board Member
Chairman of the board Harue Ueda
Chief Executive Officer Tomohiro Ueda
Executive Director Hideyuki Satou
Director Yoshio Kumakawa
Director Takashi Ikeno
Director Fujio Kishi
Director Mayumi Yoshida
Auditor Masakazu Shinoda
Location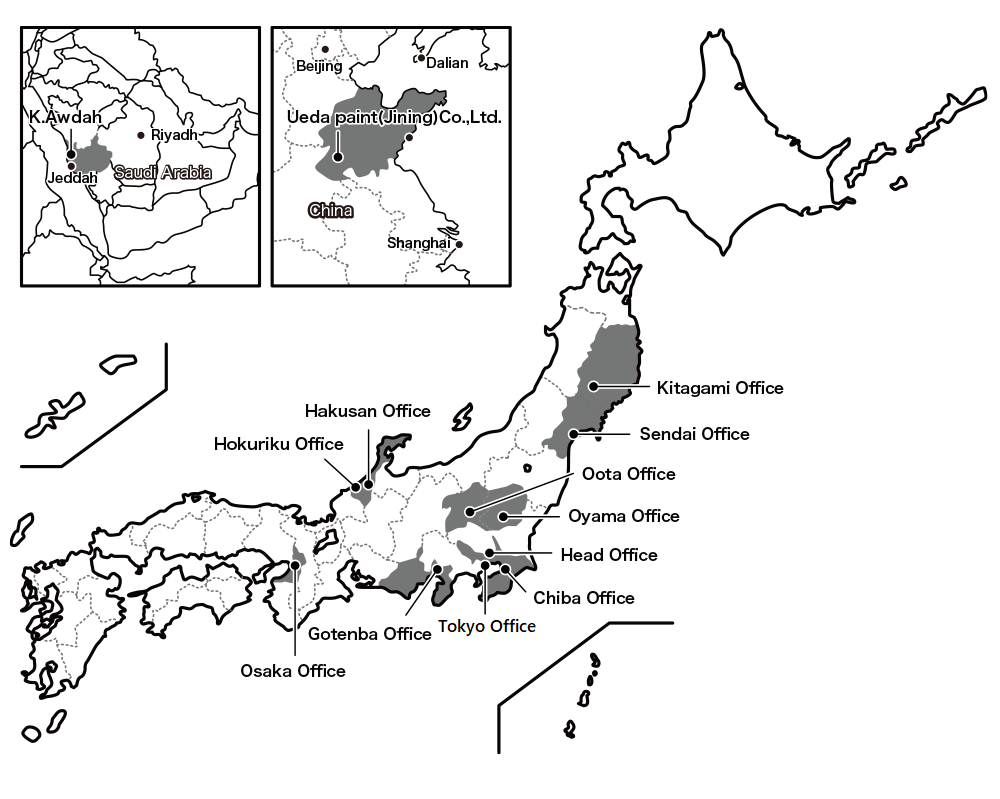 Head Office

Nishi-Shimbashi Dai1houki Bldg. 6F, 3-5-2 Nishi-Shimbashi, Minato-ku, Tokyo 105-0003, Japan
Phone +81-3-6757-4343 
Fax +81-3-6402-4880

Access

10 min on foot Karasumori exit on the JR Shimbashi sta.
10 min on foot Toranomon sta. exit 1 on the Tokyo Metro Ginza Line
13 min on foot Shiodome sta. exit 6 on the Toei Oedo Line
8 min on foot Onarimon sta. exit A6 on the Toei Mita Line
7 min on foot Toranomon-hills sta. exit A1 on the Tokyo Metro Hibiya Line

Offices

【Osaka Office】
2-1-6,Tenma,Kita-Ku,Osaka 530-0043,Japan
phone +81-6-6351-7056 
Fax +81-6-6357-1715

【Hokuriku Office】
1-123-14,Kougyodanchi,Komatsu,Ishikawa 923-0994,Japan
Phone +81-761-23-7451 
Fax +81-761-23-7453

【Hakusan Office】
124-1,Tanaka-machi,Hakusan,Ishikawa 924-0801,Japan
Phone +81-762-05-0468 
Fax +81-762-76-2013

【Gotenba Office】
3-5,Jimba,Gotenba,Shizuoka 412-0047,Japan
Phone +81-550-80-3320 
Fax +81-550-80-3321

【Tokyo Office】
3-3-2,Hanedakuko,Ota-ku,Tokyo 144-0041,Japan
Phone +81-3-5708-7511 
Fax +81-3-5708-7512

【Chiba Office】
225-28,Shinminato,Mihama-ku,Chiba 261-0002,Japan
Phone +81-43-247-0361 
Fax +81-43-247-0393

【Oyama Office】
243-19,Dotou,Oyama,Tochigi 323-0812,Japan
Phone +81-285-27-3444 
Fax +81-285-27-6152

【Oota Office】
115-1,Nishishin-machi,Oota,Gunma 373-0847,Japan
Phone +81-276-32-3377 
Fax +81-276-32-3388

【Sendai Office】
3-19-1-606,izumichuou,izumi-ku,Sendai,Miyagi 981-3133,Japan
Phone +81-22-725-5173 
Fax +81-22-725-5174

【Kitagami Office】
3-4,Hirabayashi,Aisari-cho,Kitakami,Iwate 024-0051,Japan
Phone +81-197-67-6551 
Fax +81-197-67-6554
Certifications and Registrations
Construction License
Governor of Tokyo (Special-3) No.154473 Equipment & tool installation works, scaffolding and earthwork, Demolition work
Governor of Tokyo (General-3) No.154473 Painting
License to sell poisonous and deleterious substances
Poisonous and Deleterious Substances General Dealers Registration #3 of 96
ISO14001 certification
ISO14001:2015 Head Office, Ota Office Certificated on September 2003
Official Certification Holders
List of Legal Officers/Managers/Supervisors (including the affiliate companies)
Qualification & Qualified Personnel
Class 1 Architect 1
Professional Engineer, Machinery Division 1
Class 1 Building Construction Management Engineer 4
Class 1 Civil Engineering Construction Management Engineer 3
Class 2 Metal Coating Technician 2
Hazardous Materials Handling Officer Grade A 1
Hazardous Materials Handling Officer Grade B Type 4 50
Virulent Materials Handling Officer 25
Corrosion Management Technician 3
Organic Solvents Operations Officer 20
Type1 Health Supervisor 1
Safety and Health Supervisor 6
Safety and Health Supervisor (Chief) 4
Safety and Health Officer 6
Fire and Disaster Management Rep 2
High Altitude Operation Supervisor 14
Scaffold Assembly Operation Supervisor 9
Operator completed Slinging Skills Training 19
Operator completed Safety and Health Training by Ministry of Health and Welfare 11
Forklift License Holder 29
Operator completed High Altitude Maintenance Vehicle Operation 2
Gondola Operation Supervisor 3
Asbestos Operation Supervisor 1
Class 3 Color Coordinator 1
Residential Building Handling Supervisor 2
High Pressure Gas Sales Manager 1
Arc Welding Engineer 1
Associate Welding Engineer 1
Pollution prevention manager 1
Operations chief of radiography with X-rays 1
Corporate History
Bridging the Past and the Future
"Steady Advancement Supported with Tireless Passion towards Business"
Ueda & Co., Ltd. is always moving forward in pursuit of new potential of paint business while maintaining the tradition upheld since the establishment of the business.
February, 1937

Saburo Ueda had established a personal business.

June, 1947

The company had gone public and the company name had been changed to Ueda Shouten Co., Ltd.

May, 1960
Osaka Office had been opened.
November, 1961
Hana Ueda had become Chairman and Minoru Ueda had become the second generation President.
December, 1961

Hokuriku Office had been opened in Ishikawa Prefecture.

June, 1963
Hikari Office had been opened in Yamaguchi Prefecture.
March, 1969

Oyama Office had been opened in Tochigi Prefecture.

October, 1971
The company had merged with Kuroda Paint Co., Ltd.
And the company name had been changed to Ueda & Co., Ltd.
March, 1973

Chiba Office had been opened in Chiba Prefecture.

August, 1973
Numazu Office had been opened in Shizuoka Prefecture.
December, 1974
Yokohama Office had been opened in Kanagawa Prefecture.
October, 1983

Oota Office had been opened in Gunma Prefecture.

December 1991

Chiba Color Toning Plant had been opened.

January, 1992
Tomohiro Ueda had become the third generation President.
December, 1992
Kitagami Office had been opened in Iwate Prefecture.
April, 2005
Haneda Office had been opened within Haneda International Airport Terminal I.
June, 2007
Representative Office had been opened in Jining, People's Republic of China.
December, 2007

Gotenba Office had been opened in Shizuoka Prefecture.

January, 2008
Ueda Paint (Jining) Co., Ltd. had been established in People's Republic of China as a local corporation.
April, 2011
Hakusan Branch, Hokuriku Office had been opened in Ishikawa Prefecture.
October, 2011
Hikari Office had been reorganized and become Hikari Branch, Osaka Office.
November, 2012
Sendai Office had been opened in Miyagi Prefecture.
February, 2016

Moved headquarters to Shinbashi, Minato-ku, Tokyo.

April, 2016
opened Hokuriku sales office; upgraded Hakusan satellite office to full-time sales office
June, 2017
Hikari Branch was integrated into Osaka Office.
Ueda Group Seeks Potentials and Challenges
Ueda Group believes in its potentiality.
Ueda Group will never cease to seek challenges and business opportunities.
Ueda Group will mobilize abilities and potentiality of individual company.
Ueda Group will move forward and expand business in order to realize the next generation corporation without borders.
So far, Ueda Group has formed a network of local companies in China and Saudi Arabia as a base of export and technological services.
Yujitsu & Co., LTD.
Business:Storing, processing, packaging, transporting various paint; and leasing warehouses and factories
Address
225-28,Shinminato,Mihama-ku,Chiba 261-0002,Japan
Phone +81-43-246-0993 
Fax +81-43-247-0393
Ueda paint (Jining) Co.,Ltd.
Business:Manufacturing and sales of paint and painting equipmentExporting and sales of paint, paint-related products and painting equipment
Address
Tongji Road, No.777,Jining City,Shandong Province,China
Phone +86-537-236-2632 
Fax +86-537-260-0632
SOBIG & Co., LTD.
Business:Complete building construction, renovation, painting, building design and construction, facilities and electric equipment design and construction
Address
Daimon Bldg. 6F,1-4-9,shibadaimon,Minato-ku,Tokyo 105-0012,Japan
Phone +81-3-5733-5740 
Fax +81-3-5733-5747
http://www.ueda-kk.com/sobig/index.html
K. Awdah Structural & Mechanical Works
Business:Maintenance of Buildings and Plants (Experience in Saudi Arabia and Oman)
Address
PO Box 50429, Jeddah 21523, Kingdom of Saudi Arabia
Phone +966-2-667-0468 
Fax +966-2-665-1903
http://www.ueda-kk.com/en/kawdah/index.html